Technologies of Gospel
Circuits and Networks of Sacred/Secular Innovation
The World's Most Famous Millerite Has Passed #RIPPrince
"Second Coming", Prince in concert, 1982
---
The world is awash in purple tonight. Prince Rogers Nelson died earlier today, at the age of 57.
As many people may know, Prince was a convert to the Jehovah's Witness, known for their prostelization and tradition of prophesy. He grew up Seventh Day Adventist.
Seventh Day Baptism, Seventh Day Adventism, the Jehovah's Witness, the Branch Davidians, all these things stem from midwestern culture and Millerite theology, including African-American iterations like the Jackson family, and Prince and his artisitic genius.
Next to the Jackson family, and perhaps SDA preacher's kid Al Jarreau, there aren't a lot of representatives of the Millerite tradition that pop up in popular culture. But when they do, they can be quite influential, infamous, or both.
Some, like the Branch Davidians, make the news every so often. Seventh Day Adventist Dr. Ben Carson just finished a run for president, but he's not a musician. In my view, no one should be surprised that his wife is a vocalist.
Others, like the John Kellogg family and C.W. Post become grain/cereal moguls and heavy promoters of health and vegetarian foods.
He was introduced to the Witnesses by Larry Graham, the bassist out of the Sly Stone funk/R&B ensembles and his own Graham Central Station. "I don't see it really as a conversion," from the #SDA to the #JW, the pop virtuoso was once quoted as saying. He's quite right on, for historical reasons.
The Gospel sound developed out of Chicago and blossomed into the midwest including major locales like Detroit, St. Louis, and fanned east towards Philadelphia and New Jersey, to the mid-south in Baltimore and Virginia, and then out west as the Great Migrations progressed.
We brought our music and irrepressible culture, replete with the promise of freedom of movement, expression, and association — in this lifetime and beyond — with us, including to places like Salt Lake City. And Minneapolis St. Paul. There is so much Gospel virtuosity in Prince, it's hard to know where to begin. But the above Youtube clip of 1982 concert footage of "Second Coming" is a perfect jumping-off point.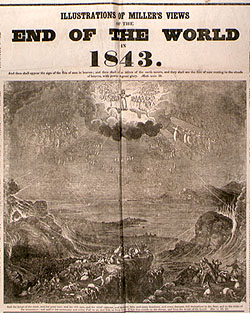 Firstly, the lyrical content is on a millenarian/apolcalyptic theme, for which Adventists and Witnesses are rather famous. Second, much like Sylvester's "You Are My Friend" is an after-sermon Altar Call ("Purple Rain" is another classic Altar Call selection), the song is really something of an Introit (see definition no. 3), and thus an apt concert opener. Finally, "Second Coming" draws on the great wealth of the Spirituals, Jubilee, and Gospel vocals tradition that bends gender and makes you wonder who those sopranos are….and whether or not any of those baritones are really just contraltos.
I'll follow up with a couple possible/likely influences that I hear on a young Prince growing up as a Black SDA kid in the 60's northern midwest.
---
"Rock Me to Sleep", Gospel Clefs
Allmusic references The Gospel Clefs as an influential group on the development of quartet-style Gospel singing. But if anything, the all-male small ensemble" out of New Jersey are more in the conservative-yet-intense Roberta Martin style, in which each singing part was also a solo part of a greater harmonious, or cacophonous, mix; a 20thc century urban re-fashioning of the 17th-19th century field hollers and Spirituals, as well as Protestant shape-note community sings.
You can hear shades of the Gospel Clef/Roberta Martin style in "Second Coming".
---
"Glory Hallelujah" and "Close to Thee", two classics by the Alex Bradford Singers with Marion Williams and Princess Stewart
Pop music, especially Black male vocals with falsetto or high tenor — one of the foundations of rock vocals — owes much to Professor Alex Bradford. Despite their conservative reputation, midwestern Baptist liturgical artists could be surprisingly progressive in their outlook, working with the Spiritualists in Chicago and Detroit, and forging deep ties with the Pentecostal traditions. These collaborations also signify an openness on the parts of these other traditions, as well.
In addition to landing at the towering institutional giant, Abyssinan Baptist Church of Harlem, Bradford peppered his small ensemble groups with the Pentecostal-trained voice of Marion Williams who had somewhat infamously defected from the Ward-branded groups, and the fabulous Spiritualist Church nonsighted contralto powerhouse, Princess Stewart (clad in black the black robe).
The Gospel/Spirituals tradition has its manner of getting playful, and Bradford also wasn't afraid to get a little showbiz/campy. Within reason. Part of "talent" in this tradition is to see how far you can push the boundaries, while remaining confined in them (and living to tell about it), crossing over sometimes with a wink and nod. It's foundational to the Black struggle ethic, itself.
Bradford made it ok for guys to sing high.
Both Bradford and Founding Mother Sallie Martin worked with the Spiritualists, as well as each other.
Without Professor Alex Bradford, there wouldn't be Little Richard. Without Little Richard there wouldn't be Bowie or much of glam, and funk would look very different. Without Bowie/glam and funk as we know it, there wouldn't be New Wave, or Prince.
And without Bowie, Prince, funk, glam, and by ironic extension the Millerite innovations on American Protestantism of the midwestern frontier and the Plains, where would the queer kids be, today?